Mama and daughter get their ears pierced
|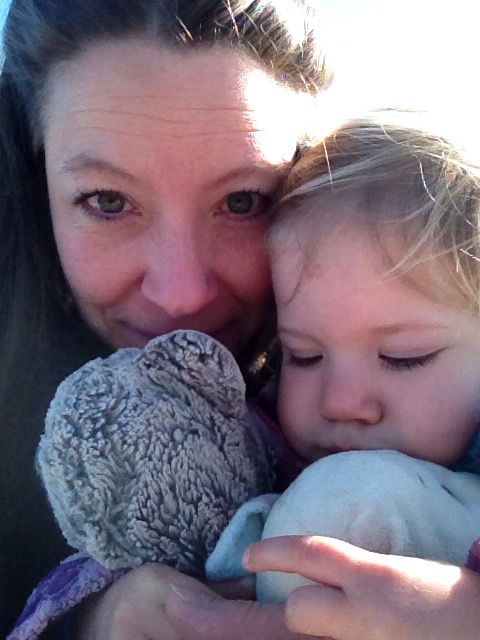 I
 've had my ears pierced since I was three years old. So for me, ear-piercing and earring wearing was never a rite of passage. It was simply put, no biggie. I'm sure that the years my parents spent living in Latin America had an influence on why they chose to get my ears pierced at such a young age. But for me, having my ears pierced has always been just part of being a girl.
I didn't know the sex of either of my children before they came out into the world. On my second, I really wanted a girl because I already had a boy. But having absolutely no faith in people's predictions about sex of a baby (including the mother's) I did not allow myself to think about it. I do remember though the first visit with my mid-wife when my daughter was inside. She said, "I feel like it's a girl!" which is unusual for her to say. And I gushed, "I know me too!" It was the only moment of my whole pregnancy where I allowed myself to bask in the gloriousness of that and listen to that feeling. Instead, I spent most of my pregnancy planning on my second child also being a boy, I was so determined not to be disappointed if I didn't get my girl. In hindsight I think that was so stupid. I wish I wouldn't have done that. I wish I would have allowed myself to bask in that wonderful feeling of me and my girl for longer (even if it would have been a boy!). Oh well. It doesn't matter anymore. And luckily, I get to do that now!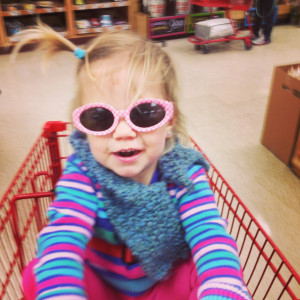 Needless to say, after six hours of labor when my husband announced it was a girl I was stunned– I had spent nearly 9 months mentally preparing for the other.
Then, it dawned on me (not right in that moment, but within 24 hours) that I would get to have GIRL CLOTHES in my life! Like cute little girl clothes! I could dress my child in pink and flowers. Cute skirts and dresses were in our future! I was over the top about that. Glowing I'm sure. My husband thought it was funny at the time—but he's since come around to admitting that cute girl clothes on his girl really are the bomb!
And in my world, ear-piercing and earrings are just part of the girl bit.  And, I think a two-year-old girl with earrings, especially one that's mine, is OVER the top cute! And I'm so glad I got to have that experience!
A few weeks ago we took a mama and daughter trip to the mall, to Claires specifically, to get the job done. I got a second hole in one of my ears done before I got hers pierced. (I already had a second hole in the other ear that I put in in high school.) I wanted to know what it would feel like, and be able to remember to maintain and clean our ears together during the healing process.
Honestly, it was a snap. It hurt for literally 3 seconds, then they ran solution down the hole and I felt no more pain. My girl, more from the shock (and the slight betrayal) of it cried for approximately 4 minutes. Then we perused the earrings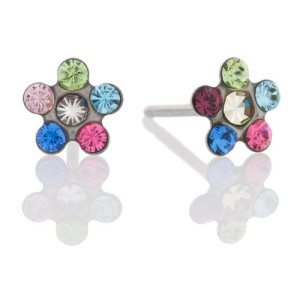 and got a few more to take home.
I thought I would get us matching birthstone earrings, because we are both Pisces girls born in March. But in the end I couldn't resist these colorful little flower earrings. I got myself the same in white crystal.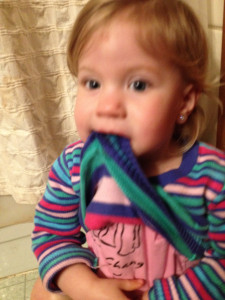 I loved every minute of it, mostly the mama and daughter aspect of it. (And I was texting my mom the whole time.)  It just made my heart gush with love over her (even more than usual, which is a lot) and the journey that we have ahead.
These are all pictures of our special day.
Yeah!
Love,
Aimée