Magic salve for everything ouch! Moms, you'll want this!
|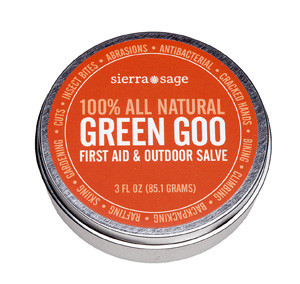 Every time anyone in our house gets hurt, I mean even the slightest thing, my husband is always, "Do you want some salve on it?"
A few months ago I finally said, "Honey, that's diaper cream." I mean technically it was Weleda's Baby Diaper Rash (Calendula) Cream, and I suppose it could be used for calming and soothing anything. Still, it was originally purchased for bums, and in my mind that's what it was for—or rashes or something, but not a scrape or a cut or… any single thing that makes a child feel ouch.
Not so for my man. He used it for everything and anything. So I took matters into my own hands. I figured we should get some salve that is actually made for that, since he's so keen on using it.
Enter Sierra Sage Organics. I had heard about their all natural and organic salves so I contacted them to see if I could give them a try. They have this stuff called "Green Goo" that they advertise for just the things my husband uses it for…. Everything!  In addition to be an all purpose healing salve for basic injuries and skin repair, it's also known to be a natural alternative to Neosporin and Hydrocortisone cream.  They also had one called "Repair Replenishing Salve" that caught my eye.  Among other things you can use it for around your eyes at night—which  seemed like a good idea to me. I'm 41 after all.  It's an aloe-E daily skin repair that's good for a whole host of other things too like "scars (new and old), burns, sunspots, and sun damaged skin," among others.
They agreed to be a blog sponsor and sent me a bag of goodies to try. I agreed to write about them only IF I loved them.
Well let me tell you folks that time has come! Our family is now basically a walking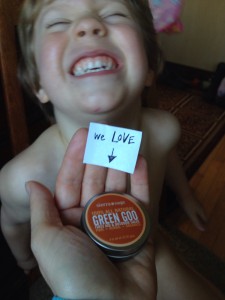 advertisement for Sierra Sage Organics and let me tell you why.
Several weeks after our package arrived my husband fell off a six-foot ladder straight onto his face. Specifically his face landed directly in a pile of rubble! Now I wish I had taken a picture, but I'm not really that kind of girl, so I didn't. Needless to say, ummm, his face was broken up.
For the most part my husband is a brush himself off and "I'm fine" kind of guy. So when he called me and said, "Where are you right now? I just fell off a ladder and I'm on my way home, can you meet me in the house?" I knew that this was serious.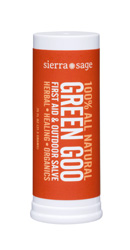 As I was calling our Naturopath to get him an appointment, I handed him his trusty companion: his stick of "Green Goo." Of course he applied immediately.
Cut forward. Dr. confirms no concussion. My husband gets the green light to go ahead with his plans for later that day, which are to leave for a weekend at the beach bachelor party for his best bud.
Two and a half days later he drives up with our friends and gets out of the car. I am astounded at his face. Of all the cuts, scrapes, and open spots, there is only one small mark left. As my husband and I are standing there talking about it and his salve application, one of our friends says to us, "That stuff is magic! I watched it heal him before my eyes. Where can I get some?"
That's pretty much how we've felt about it ever since. I tell all my girlfriends about it, especially when their kids happen to scrape their knees while at our house, as happened just last week. Our guy friends that were at the bachelor party with my husband are still asking us about it. I've told so many people I knew it was time to tell you.
You want this salve. Seriously! It's the perfect everything salve for parents especially—who have a higher than normal percentage of scrapes and cuts in their life, than the average Joe. Or, if you have men who work with their bodies like I do, and may or may not, for example, experience a face full of rubble!
The other things I've tried and love from them are the Repair Replenishing Salve, the Calendula Infused Face Wash (especially if your face tends toward dry), and their lip balms.
Here's to healing all scrapes and cuts with ease, grace, and magic!
Thank you Sierra Sage Organics! It has truly been our pleasure to know about you and use your products.
Love,
Aimée