Workouts with mantras: A winning combo!
|
If you are a student in any of my Intuition University programs you will hear me talk about exercise. It is actually related to a high functioning intuition. For real. It's energy clearing, grounding, and really helps you be in your body—which no matter how ethereally connected you are– is the place you need to be in order to be effective during your time on earth. It was years ago now that I realized that regular exercise was one of two essential practices that honestly make my life better in every way.
Here's why: Regular exercise helps you first and foremost connect to your body, it helps you slow down into a more natural pace, it helps you get out of your head and balances your energy more evenly throughout your body. It helps you feel your body! It stabilizes and gets rid of excess emotion. It helps you center yourself. It releases endorphins– those happy making hormones. It clears your energy. And it helps anchor you to this planet. And, I'm not even going to mention here all the health benefits– you know exercise is good for you. 🙂
A few years ago, a friend turned me on to workout goddess Erin Stutland. And oh boy I was in love with her work right away!  She combines workouts with mantras! This is so up my alley, I felt like, "Finally! Someone did this!" I hadn't thought of it—but many a time I had been at the gym or on a walk and wanted something positive to think on and repeat. Enter Erin Stutland brilliance! She leads cardio and strengthening workouts that also include positive uplifting sayings as you go along. You actually say them out loud as you are doing the workouts! It's such a positive energy boost!
A few years ago I did her "Say It! Sweat It! Get It Challenge" (a five minute workout five days in a row). And I loved it! I was totally hooked. I downloaded her set of workouts, which also include workbooks, ending meditations and an audio program that she calls "Soul Stroll." I can't count the number of times I've played her workouts on my computer, sweating and jumping around on my living room floor while saying things like, "What I used to think was hard is now easy." My kids usually join along too! It's pretty funny. To this day her "Soul Stroll" is the audio that I most play while I'm on a walk or working out at the gym.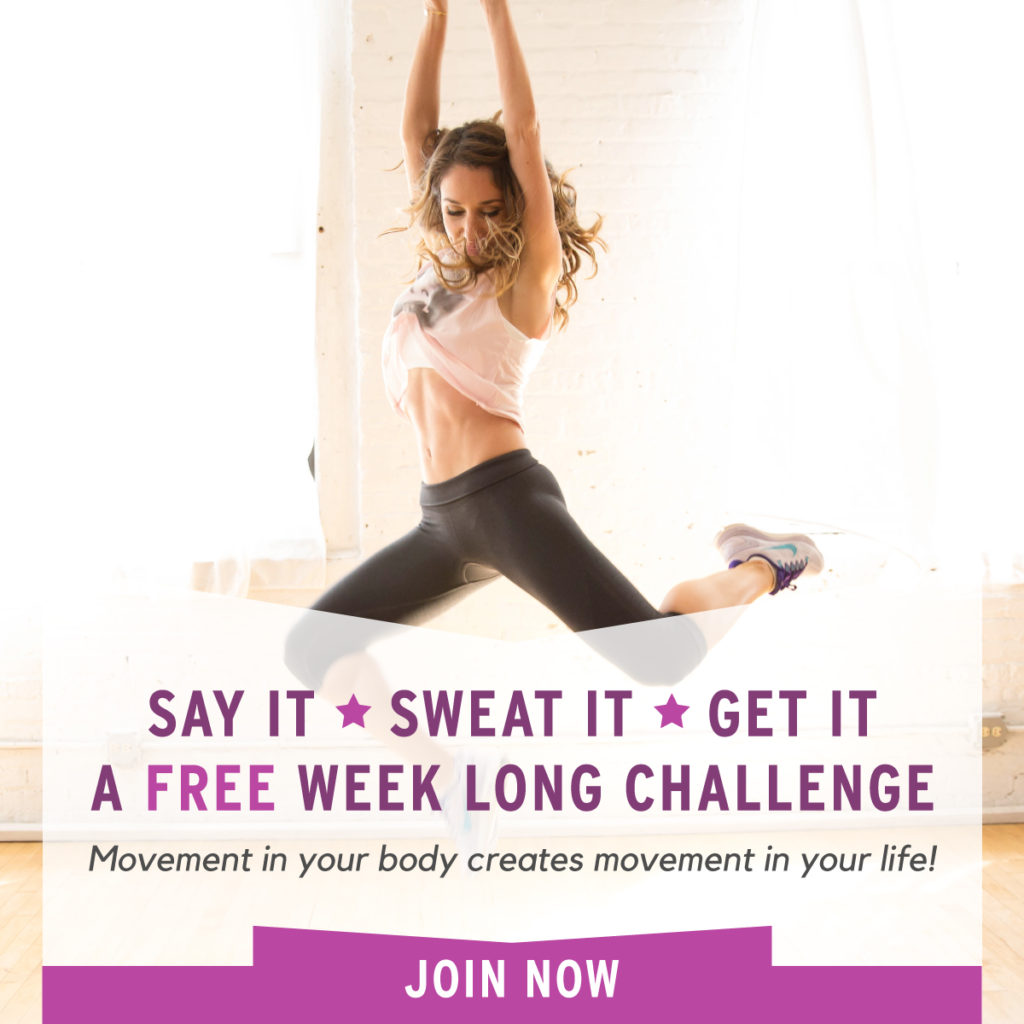 She's doing another "Say It! Sweat It! Get It! Challenge" right now. It starts on Monday October 9th and it is completely free. You sign up—and for five days in a row you get a five-minute workout in your inbox. And, you get to discover the magic. It's hard to continue to have a bad day when you are moving your bod and saying things like, "I am enough, I have enough, I do enough, every single day."
So if you feel, like I do, that adding positive mantras to exercise is just the perfect combination– I can't recommend the work of Erin Stutland highly enough.  Or even if you are looking for a new exercise routine, or the motivation to start one, or you just want to have a back-up in your pocket for the days you can't get to the gym, Erin Stutland is your gal.
If you're anything like me, you'll love it. And on the off-chance that you don't —her challenge is free!  You've got absolutely nothing to lose, except a few wide grins while saying lovely mantras in your workout clothes!
Love,
Aimée
Aimée Cartier is a psychic, author, and founder of Intuition University.  Through private and group programs she teaches others how to harness the power of their own innate insight and intuition, to trust it, and to allow it to lead them to a flourishing and successful life.  More about her work can be found at www.AimeeCartier.com.