You don't need "a reason" to trust your intuition– learn from my mistake.
|
I still remember the last time I purposely ignored my intuition. It was such a potent lesson that it fundamentally changed the way that I related to my own intuitive senses, forever. Namely, I learned once and for all, that they weren't to be ignored: even if I didn't quite understand them at the time.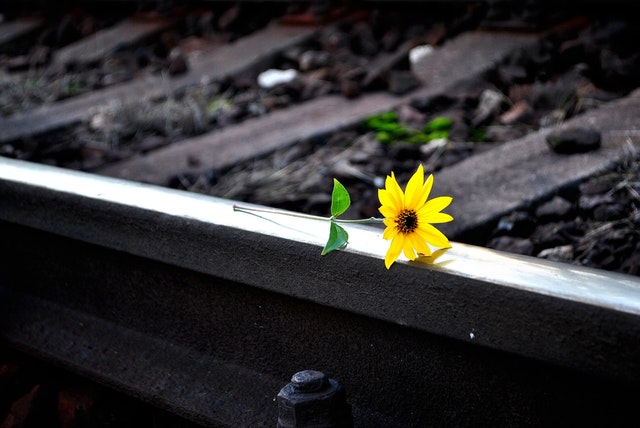 I was in my 20's. And there was a handsome man pursuing me. I found him attractive and yet every time I thought of dating him I felt this energetic repulsion. Over and over again I had the feeling that I should keep distance between he and I. The image of a ten-foot pole frequently came to my mind– I understood that my inner senses were telling me to avoid letting this man get close to me.
And I acted that way when I was with him. I'm sure I was giving off completely mixed signals—because on the one hand I was attracted to him. And on the other I had this overwhelming feeling like dating him would NOT be a good idea.
I couldn't understand it. So I asked around. We both worked in the same field so we had many mutual acquaintances. I was desperate to understand why my intuition might be giving me this message so I started inquiring. Everyone I asked felt that he was a decent guy– nobody could give me any reason why I shouldn't see him.
Also, he was persistent. Despite my mixed messages he continued to pursue me relentlessly, probably banking on the attraction he felt and reasoning if he could show me enough of himself I would eventually be swayed. Since after a thorough search on my end I couldn't actually find a reason not to date him, eventually– under his continued pursuit– I was wooed– won over by some of his lovely qualities. On top of our many shared interests, he was (and still is) a gifted musician and poet (through his song writing). I can still remember the weekend music festival we were at when I decided to just do away with that pesky ten-foot pole that kept appearing in my mind. I just couldn't see a reason for not dating him. I saw that he was a good friend to others, a brilliant musician, a clever man, and one who also cared for me.
Cut to a year and a half later. I'm sitting on the front porch of his home with my mother. He is actually not home at the time. When down the driveway saunters a woman. When I ask her who she is, she claims she is or was his girlfriend. She, (in front of my mother as well) reveals the story of how she had been dating him over the last month or so– until he recently ended things with her. Now, it's pertinent to know that during that same length of time indicated by her I had been out of the state caring for my dying grandfather.
Anyone who has ever suffered betrayal like that knows it's a SERIOUS blow. That's all that really need be said about that.
In hindsight that ten-foot energetic pole made a whole lot of sense. The amount of heartbreak that I could have avoided just by listening to my own inner voice was not lost on me. In fact this experience fundamentally changed the way I related to my own inner knowing.
That was the last time I purposely ignored it. I understood DEEP in my bones that I don't need to have a REASON to trust or validate my intuition. I comprehended that the outside reason(s) may or may not reveal themselves at the time of choice and that they are irrelevant.
What is relevant is relying on my inner voice, trusting it, whatever it tells me, and heeding that advice. Since that time I've discovered there are usually VERY good reasons my intuition guides me in certain directions. And more often than not they involve receiving more joy and goodness. Frequently they also result in positive experiences that I could have not anticipated using my reasoning.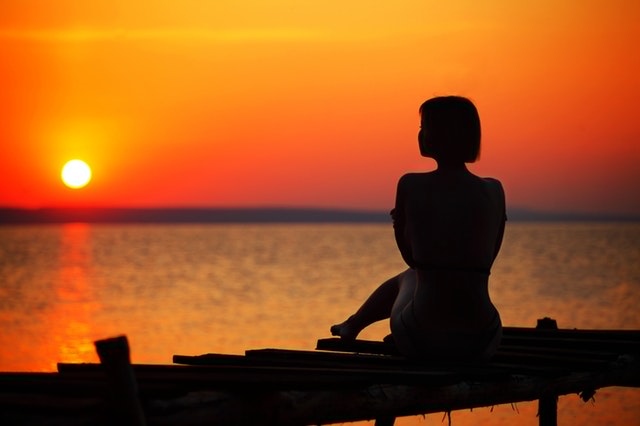 I'm telling you all of this because I want you to know that your own intuition guides you to goodness too. I hope you don't have to learn it the hard way like I did. I hope you can use my example to avoid similar mistakes in your own life.
So next time your intuition is pointing you in a certain direction and you cannot find a reason why, this is what I suggest: Just shrug and remind yourself:
Seeing an obvious reason is not what validates your own inner knowing; it's the acting on your internal guidance that does so.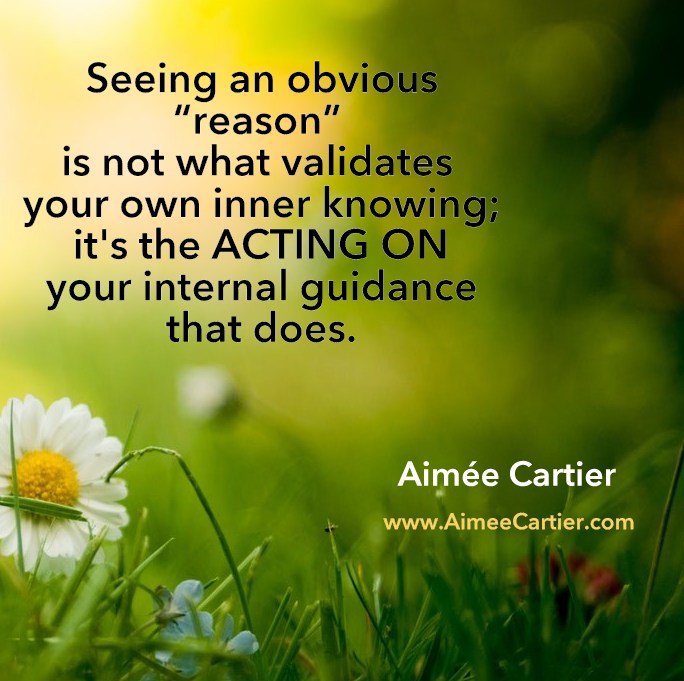 Wishing you all the goodness that comes from doing so!
All my love,
Aimée
Aimée Cartier is a psychic, author, and the founder of Intuition University.  In her specialized Private Intuition University program she teaches students to understand, harness, and reap the benefits of trusting their own natural intuitive/psychic skills/inner knowing.  Sign up here to stay in the loop about her programs. You can find out more about her and her work at www.AimeeCartier.com.